Delivered to your home in Kerikeri
and surrounding areas
Whangarei and surroundings
Delivered to your home!
Bay of Islands Airport
Several flights a day...
Receive the motorhome where you want it!
Living local?*  Get the motorhome delivered to your house, pack your stuff and off you go!
Safe yourself the hassle of packing and unpacking; take your wardrobe (pillow!) and whatever you need from your house straight in the motorhome cupboard. Don't forget your favourite fishing rod, golf clubs, walking shoes, the content of your fridge, that open bottle of wine… All you have at home and want to take, you store in the right place the first time. The reverse you can do at the end of your trip, no wastage of food!
Motorhome Northland area
Northland has almost all-natural wonders you can possibly wish for, but we understand there is more to see down south as well. It is up to you if you want to make a loop-trip or a one way, you can pick up and drop off the motorhome at every domestic airport. We service Kerikeri, Whangarei, Auckland, and Christchurch at no extra cost, all other domestic airports pricing on request.
Local?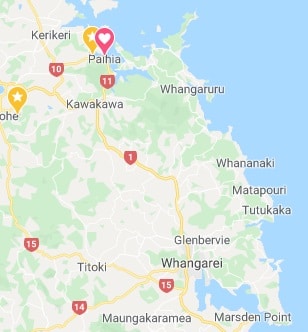 *We consider local; the wider area from Whangarei to Mangonui, Kerikeri, Paihia, Russell, and all in between. Living outside this area, but you like to pack the motorhome from home? Simply enquire, arrangements can usually be made.
Starting 'local' and visit the South Island? Please flick an email, we might have a better deal if one of the vans is down south and needs to come up… In that case, we can pick it up from your place at the end of the holiday.
We are pretty laid back and will do whatever is in our power to assure you have the New Zealand holiday of your lifetime!